How will the transfer of Ebere Eze impact Crystal Palace, can he replace Wilfried Zaha and what does this mean for the future of QPR?
A QPR fans' tribute to one of the brightest talents from W12
The number 10 shirt is iconic at QPR. My dad grew up watching Stan Bowles and Rodney Marsh, I was able to cheer Ákos Buzsáky free kicks and Adel Taarabt nutmegs, and the most recent generation of QPR fans have had the pleasure of watching a vibrant young attack led by the brilliant Ebere Eze.
QPR signed an 18 year old Eze on a free transfer from Millwall in 2016, and since then he has made 104 appearences for the club, scoring 20 goals and creating another 13. It was announced this week, to no ones' surprise, that Eze had secured a move to the Premier League - a £16 million fee plus £4 in add-ons to fellow London side Crystal Palace. This deal is seen as a win-win from both sets of fans, Palace get a sensational player and QPR get a big injection of cash to help the club stay afloat.
Crystal Palace recorded a comfortable 14th place finish in the 2019/20 Premier League, and are clearly looking to strengthen their attacking options with the annual transfer request from Wilfried Zaha looming large. As Palace have spent big on Eze (their 3rd highest transfer fee) it seems increasingly likely that Palace will finally lose the Ivorian, with teams such as Arsenal, Everton and even PSG linked with their star man. As Hodgson favours a 4-5-1 with a central midfield trio of McArthur, Kouyaté and Milivojević it seems likely that Eze has been signed as a like-for-like replacement for Zaha, rather than in his natural 10 role.
The positional data from WhoScored.com seems to confirm this. Last season both Eze and Zaha started the majority of their games, and made the biggest impact, from the left. Although Zaha had a mediocre 2019/20 season by his high standards, only scoring four goals in the league, he is a legendary figure at Selhurst Park and Eze will have his work cut out to fill his boots. Lets look at how their numbers compare. Due to Zaha's poor form last season I have used 2018/19 data for this analysis, a season in which Palace finished 12th and Zaha got into double figures for league goals, also recording five assists.
It is immediately notable that Zaha plays a more direct, high risk high reward style, with a higher number of completed dribbles and more fouls drawn than Eze, but also losing the ball over twice as often. Eze, in comparison, records an 84% pass competion rate whilst also contributing more key passes and significantly more crosses. It is also noting that QPR played incredibly attacking football under Mark Warburton last season, indeed only Brentford, West Brom, Leeds and Cardiff (all finishing in the top 6) scored more. Roy Hodgson, on the other hand, is not known for his free flowing style, and this has led to Zaha often finding himself isolated and having to go alone, hence the low pass completion and high number of dispossessions.
Statistically it seems that Ebere Eze is more than good enough to take on Zaha's creative and goalscoring responsibilities at Palace. The key question remaining is how likely he is to adapt to the Premier League and maintain these numbers? Lets take a look at Eze's 2019/20 season against a few other recent Championship graduates'. These radar charts will compare Eze's 2019/20 season with the final championship seasons of James Maddison (2017/18 with Norwich City, in which he recorded 14 goals and 8 asissts, the exact same number as Eze this season), Adama Traore (2017/18 with Middlesborough), David Brooks (2017/18 with Sheffield United) and Todd Cantwell (2018/19 with Norwich).
These charts make for very good reading Palace fans. Eze matches up to James Maddison's sensational season at Norwich in almost all categories. Maddison took 0.4 more shots per game than Eze, but this difference solely comes shots taken outside the box, and if xG figures were available it is likely they would be more even. Maddison also creates more chances for his teammates with an extraordinary amount of key passes per game. Eze wins back some ground with his dribbling ability, which is second only to the amazingly one sided radar of Adama Traore, but Eze trumps Traore with his passing ability and defensive contribution.
Perhaps the most favourable comparison would be against the 2018/19 PFA Young Player of the Year nominee David Brooks, whose radar pales in comparison to Eze's. Similarly Todd Cantwell, who has had a respectable Premier League season in a very poor campaign for Norwich, produced underwhelming numbers in 2018/19 compared to Eze's in 2019/20 - in a Norwich side that finished 19 places higher in the than QPR in their respective seasons.
So things are looking good for Palace, Eze had a stellar campaign for an inconsistent QPR side, and if he continues to improve at the same rate he'll be a real asset to the Premier League. But what does this mean for the R's? A 19th place finish with one of the best performers in the division doesn't bode particularly well, especially as Warburton has revealed that the £16 million will not be available for transfers.
However, R's fans are relatively relaxed as there is an understudy waiting in the wings of the Kiyan Prince Foundation Stadium for a chance to star - Ilias Chair. Chair is a Belgian born Morrocan playmaker, which immediately draws comparison to his fellow countryman Adel Taarabt. In a 2018/19 loan role at Stevenage, Chair scored 6 goals in 16 games, including sevaral goal of the season contenders such as this strike from within his own half.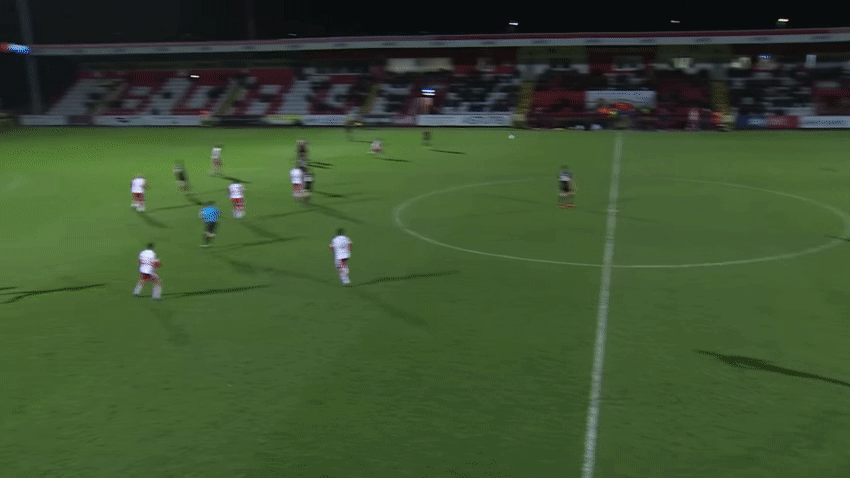 In West London Chair has a reputation of a tidy, technical midfielder, rarely starring but playing an important role distributing the ball to the more creative Eze, Manning and Osayi-Samuel. In 2019/20 he scored 4 and assisted 6 from 26 starts. However his loan spell success indicates that he may benefit from being the main man. Coming into the side this season he took far fewer risks than during his time in Hertfordshire, rarely shooting from distance and playing the easy pass to a more creative teammate, so he may thrive with more creative licence following Eze's departure.
The outstanding nature of Eze's season leads to a reasonably unfair comparison against Chair's, his 2019/20 radar compared to Eze is very much that of an understudy. His pass completion percentage is solid, and he loses the ball less than once per game, affirming his reputation and playing an important role in Warburtons' passing style. However if we compare Chair's season to Eze's first full campaign we can see why he is touted as Eze's potential successor. Eze drew more fouls, completed more dribbles but also loses the ball significantly more, while their creative and attacking output in terms of Shots and Key Passes is very similar.
Overall the future is bright for both sides involved in this transfer. Palace have gained one of the brighest young English talents, who should help them secure Premier League survival and aid in the push for the top half. QPR gained £16 million to ensure the club survives the revenue restrictions caused by Covid and to help fund a new training ground to develop further youth prospects. The R's also have a ready made replacement lined up with Ilias Chair, who should be able to step up and secure the same objectives for QPR in the division below.
One last thing: please enjoy him Palace fans, he's a gem.